---
KAPLA 200 BOX
200 wooden KAPLA planks in a storage box. It includes an instruction booklet for basic construction techniques.
---
KAPLA 280 BOX
This deluxe wooden display case containing 280 KAPLA planks includes an inspirational art book of your choice.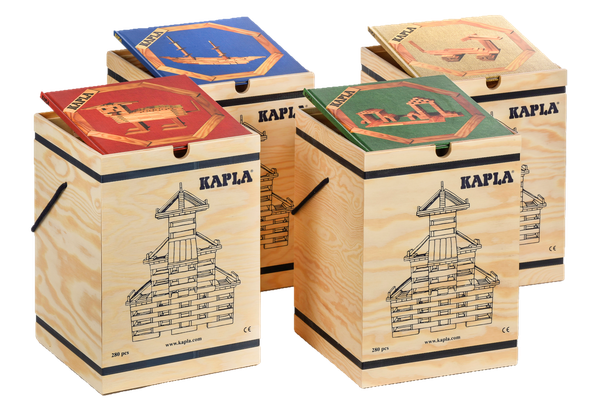 ---
KAPLA 1000 BOX
1000 KAPLA planks and two instruction booklets.
There's no point in beating about the bush, the pack 1000 is every builder's dream. With this pack of 1000 planks, you will be able to create big constructions and allow your children to develop their creativity together, or as a family.
It's the ideal choice for children who are passionate about the universe and wooden KAPLA constructions.
The pack 1000 is also adapted to communities and presented in a solid wood gift box, equipped with wheels for ease of transport.
---
KAPLA 100 BOX
This box of 100 KAPLA planks is delivered in a wooden gift box with examples of creations using less than 100 planks.
It's the ideal gift box for learning to build numerous models and to start to imagine your own creations.
---
KAPLA Eiffel Tower
Build a 69 cm high Eiffel Tower using 105 KAPLA planks and a detailed instructions booklet.
It's a guided construction for « big kids ». (10+ and adults).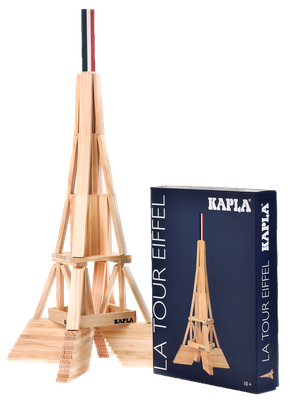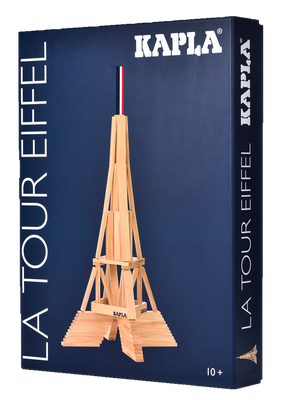 ---
KAPLA OCTOCOLOR
Presented in a lovely solid wooden presentation case, the KAPLA Octocolor offers a touch of contrasting tone.
This 8 color palette of 100 planks was specially designed by the creator of KAPLA in collaboration with artistic painters.
All this for the delight of children who can give expression to their own personal constructions.
---
KAPLA ART BOOKS
Four different books for all ages.
These art books allow you to discover all the possibilities that this extraordinary set of pine boards can give you. 
A high quality publication with magnificent photos of hand sketched technical drawings. 
---
KAPLA 2 COLOUR PACKS
These beautiful gift boxes of 2 x 20 planks in two different colours + 1 art book with numerous models to create, is ideal for starting or completing a collection on a variation of colours.
These art books on the colour theme are sold exclusively with these 3 gift boxes and differ from the collection of art books volume 1, 2, 3 and 4.
---
KAPLA 40 BOX
Wooden box containing 40 coloured planks.
With the coloured KAPLA gift boxes of 40 planks, it's 6 ways of giving depth to your constructions.
The magic of colour, associated with your building will add to the perception of your creations. Allowing you to play with volumes and embellish your creations.
---
KAPLA CHALLENGE
KAPLA Challenge is a quest for the perfect balance… Try reproducing the models pictured on each of the 12 "Challenge cards", with the 16 KAPLA planks at your disposal.
"Both brains and hands come into play to achieve harmony and balance of mankind."